parties
All weekly
Parties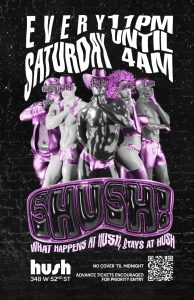 SHUSH
What happens at Hush stays at Hush… but Shush Saturdays is no secret!
02 December 2023 - Saturday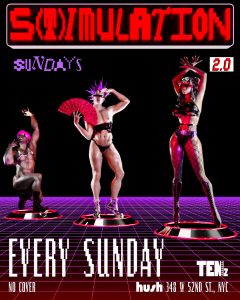 STIMULATION
10s, 10s, TENZ across the board! Get Stimulated every Sunday with TENz and the fabbest of the ball scene. Hit the catwalk to the beat of the best hip-hop, house, and throwback bops.
03 December 2023 - Sunday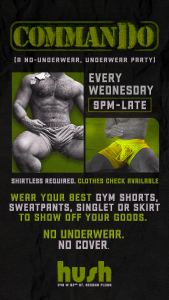 Commando
A No-Underwear, Underwear Party *is Hush's fresh, new take on a gay nightlife staple. Wednesday Nights come in your best gym shorts, sweatpants, singlet or skirt to show off your goods. But leave the underwear at home for this special "No underwear Underwear Party" Show off your sexiest dance moves with special weekly guest hosts from
06 December 2023 - Wednesday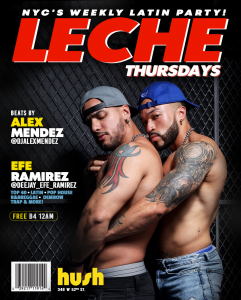 LECHE
NYC's hottest weekly latin party!
Every Thursday the papis take over Hush.
07 December 2023 - Thursday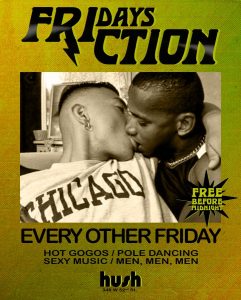 FRICTION FRIDAYS (1st & 3rd friday of the month)
Creating sparks in Hell's Kitchen with FRICTION FRIDAYS; a sexy,
house-pop party with a frisky edge.
08 December 2023 - Friday
No event found!
visit
DONT MISS OUT!
ADDRESS

348 West 52nd Street, New York, NY 10019, USA

Getting Here

HUSH venue is located in 348 West 52nd Street, New York, NY 10019, USA (Hell's Kitchen, Manhattan, NY).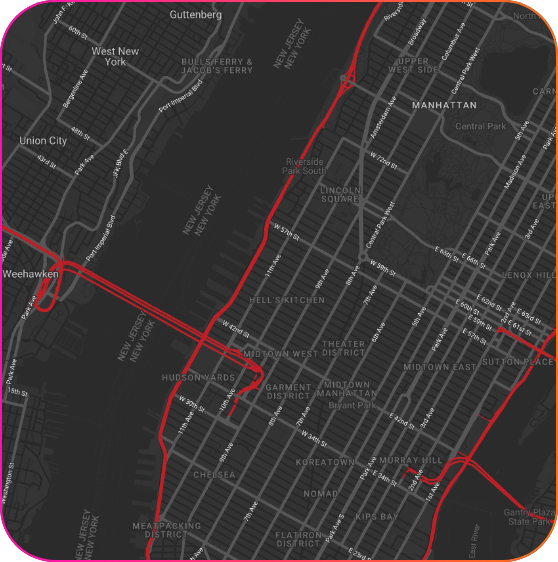 news
dont sleep
on it
Sign up to recieve the latest news about upcoming events.